Bausch Flexible Bite Fork & Arti-Fol Forceps
Flexible Bite Fork & Arti-fol Forceps
Our Flexible Bite Fork system comprises two curved forceps (BK 133) and a rubber handle (BK 130). The forceps are easily inserted into the rubber handle and can be moved. The bite fork is particularly suitable for holding the thinnest occlusion paper in the curve (BK 11 and BK 12) or for use with our 75 mm wide articulating film.
We recommend the self-clamping Arti-Fol® forceps (BK 132) with molded longitudinal nut for holding our articulating occlusion papers and films.
FIX-CLIP BITE FRAME is an alternative to the metal forceps which serve to firmly hold articulating occlusion papers and films. The flexible handle made of ABS plastic material can be recycled and is fully sterilizable.
Arti-Grip™ silicone sleeves improve the grip of Bausch Arti-Fol® forceps. When testing the occlusion using thin films it may happen that the clamping force of the forceps may not be sufficient. Arti-Grip™ silicone sleeves improve the grip and therefore enhance the clamping force of the forceps, especially when using thin Shimstock-foils. We recommend to use Arti-Grip™ in combination with Arti-Fol® metallic and the Arti-Fol® forceps BK 132. Arti-Grip™ is sterilizable and therefore reusable.
Item:
Contents:
Color:
Product No.:
Arti-Fol Forceps (Straight)
1
BK 132
Paper-Forceps (Curved)
1
BK 133
Paper-Forceps (Miller)
1
BK 142
Fix-Clip Bite Frame
5 bite frames
BK 143
Arti-Fol®-Forceps Sterislide
1
BK 144
Approximal Contact Forceps
1
BK 145
Arti-Grip silicone sleeves
20 pieces
BK 146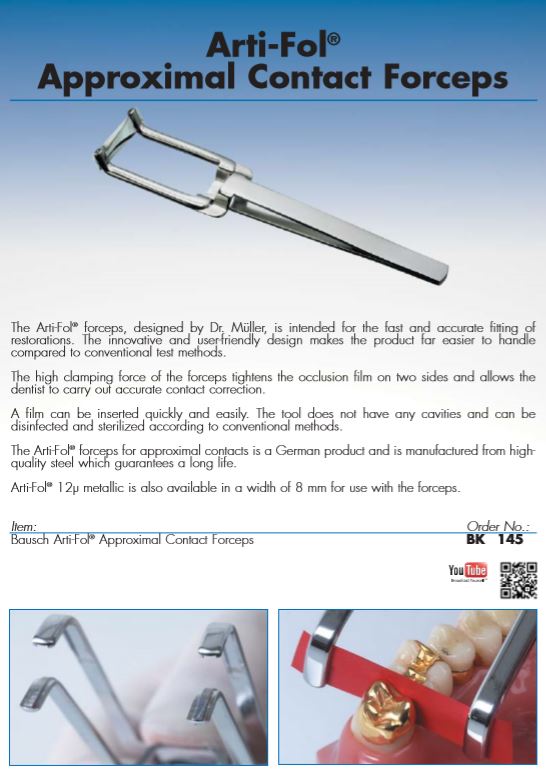 Fleximeter Strips are a useful innovation for the dentist and technician alike. These strips are flexible measuring instruments in three different thicknesses. They measure the height of the preparation on grinding teeth for restoration (e.g. crowns, bridges or telescopic crowns). The thicknesses of the Fleximeter Strips 1,0 mm, 1,5 mm and 2,0 mm can also be used to enlarge the vertical dimension (height of bite). They are made from a special silicone rubber that can be sterilized up to a temperature of 200°C (390°F).
If Arti-Spot® or Arti-Spray® is applied to the Fleximeter Strips, it can be used as a marking indicator when measuring the height of the preparation.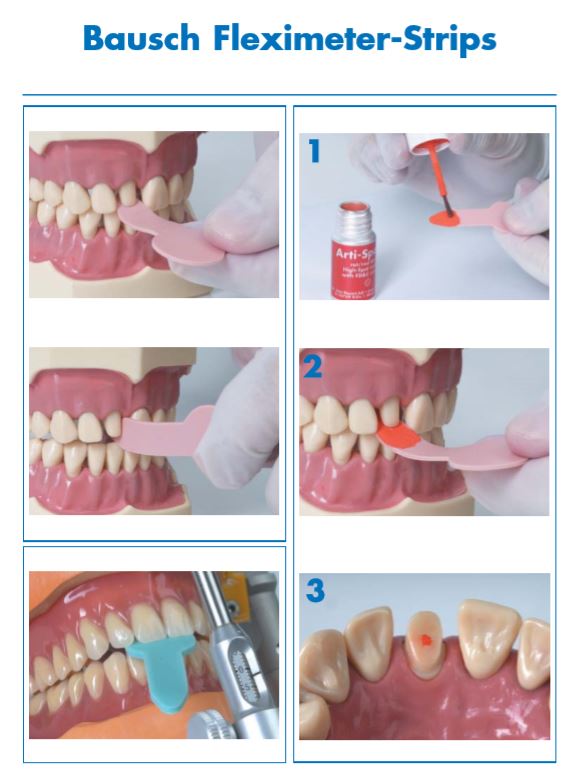 Arti-Brux® is an occlusal indicator paint in red:
• to control static and dynamic occlusion on restorations, prosthetics and occlusal splints.
• short term occlusion control (max. 24 hours).
Arti-Brux® is a red indicator paint which is applied with a brush (single-use product) to the occlusal surfaces to be tested. After drying, Arti-Brux® forms a saliva-resistant, thin and even coating. To diagnose parafunctions (especially bruxism), Arti-Brux® has to be applied to the hard splint. Due to the color abrasions, contact areas become clearly visible.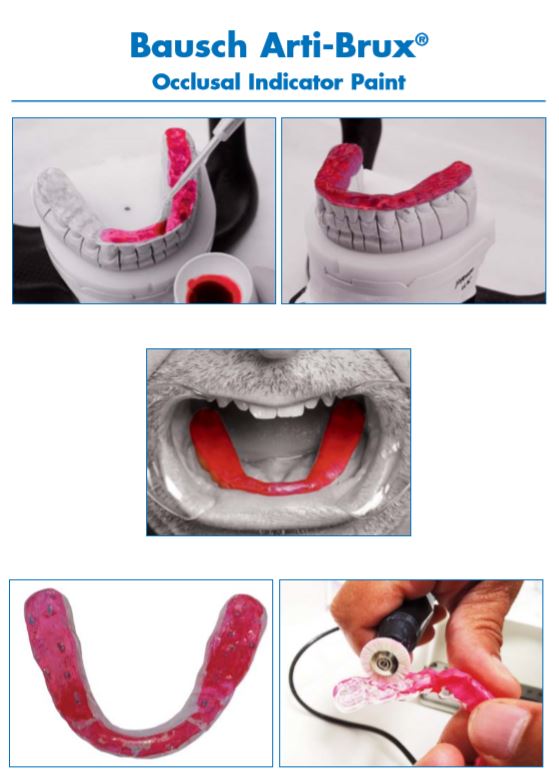 Bio-Ink®-Flow is a green, highly viscous, easy to apply paste for marking sore spots on the gum and locating them on the denture.
Bio-Ink®-Flow is intended for marking points, areas and lines on the oral mucosa, such as sore spots, A-line, mucosal bands, folds and denture flanges. The relevant areas are colored with Bio-Ink®-Flow on the previously dried mucosa. When the dried denture is inserted, the color which has been applied to the sore spot is being transferred. Subsequently, the removable restoration can be adjusted.